Honda Ash Tray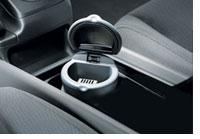 Brand: Honda | Product Category: Interior | Product: Ashtray Accessory
The Honda cup-bottom ashtray conveniently sits in your cup-holder. The ashtray accessory is specifically designed to fit your Honda model whether you own a Honda Accord or the Honda Pilot, EBH Accessories can find the specific ashtray fitted to your model.
Interior Genuine Ashtray:
The Genuine Honda ashtray is perfectly fitted for your Honda vehicle.
Rugged plastic design
Cup style with closing lid
Genuine Honda accessories are guaranteed to fit
Customize the interior of your Honda car or truck with Genuine Honda interior accessories.
Search our online catalog
and discover how to accessorize your Honda's interior, exterior, and wheels and remember, we buy for less we can pass that savings on to you!

Search Our Catalog for Ash Tray for Your Honda
Search Honda Accessories: