Honda Trunk Tray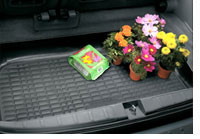 Brand: Honda | Product Category: Interior | Product: Trunk Tray Accessory
Protect your trunk's original carpeting with this custom-fit trunk tray, and enjoy additional versatility for all your hauling needs. Depending on your Honda model trunk tray's are constructed of rugged-quality molded rubber for long life, this cargo tray sports a lip for added protection to your Honda's carpeted cargo area. These trunk trays are also very easy to maintain and can be cleaned with mild soap and water.
Genuine Honda Trunk Tray Details:
The Honda Trunk Tray accessory is perfectly fitted for your Honda vehicle.
Quality molded rubber is rugged, for a long life. Its textured surface helps to prevent items from sliding
Protective lip gives added protection to your Honda's carpeted trunk
Exclusive design for your Honda, and embossed with the vehicle's logo
We carry trunk trays for all Honda models including:
Honda Crosstour
Honda Accord (& Hybrid)
Honda Civic (& Hybrid)
Honda Rideline
Honda Pilot
plus all Honda models
Customize the interior of your Honda car with Genuine Honda interior accessories.
Search our online catalog
and discover how to accessorize your Honda's interior, exterior, and wheels and remember, we buy for less we can pass that savings on to you!

Search Our Catalog for a Trunk Tray for your Honda Now!
Search Honda Accessories: