Honda Floor Mats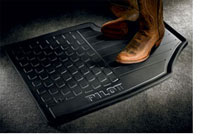 Brand: Honda Product: Floor Mats
Genuine Honda floor mats keep your carpet free from wet messy tracks. Functional design ridges trap dirt, sand, mud, and water. Tough rubber material has a long lifespan and is easily cleaned with mild soap and water. Ribbed backing helps ensure these Honda mats stay in place. Molded logo creates a custom appearance.
Genuine Honda floor mats will give your Honda car or truck a custom look without paying too much. All EBH Accessories are discounted so we can forward the savings onto you. From the Accord to the Honda Fit we have a set of floor mats for you at a discount!
Genuine Honda Floor Mats are designed for both safety and comfort. Most mat designs are equipped with metal grommets for use with floor mat retaining clips. These clips keep mats from interfering with the accelerator, clutch and brake pedals.
We carry Floor mats for all Honda models at discounted prices! These are Genuine Honda floor mats for the:
Honda Accord
Honda Crosstour - 2WD and 4WD Models
Honda Civic
Honda Ridgeline
plus all other Honda models

Search Our Catalog for Floor Mats for Your Honda
Search Honda Accessories: