Honda Car Cover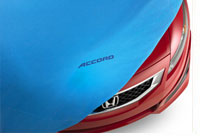 Brand: Honda | Product Category: Exterior | Product: Car Cover
Protect your Honda's factory finish. Weather-resistant, breathable fabric reduces moisture accumulation between car and cover. Soft, non-abrasive backing protects exterior paint from fabric scratches. Elastic bottom is custom-tailored to your Honda's body-line. Genuine Honda Car Cover are soft and supple and help to protect the fine finish of your Honda. EBH's car covers also protect paint from the harsh elements in the environment, while preventing moisture from condensing underneath. Reinforced security eyelets are included for use with the optional lock and cable. Drawstring storage bag provides convenient storage.
Genuine Honda Car Cover:
The Honda car cover is perfectly fitted for your Honda vehicle.
Quality water resistant fabric ensuring a dry vehicle underneath
Security eyelets for lock and cable
Convenient storage bag
Only order Genuine Honda exterior accessories at a discount from EBH Accessories..
Search our online catalog
and discover how to accessorize your Honda's interior, exterior, and wheels and remember, we buy for less we can pass that savings on to you!

Search Our Catalog for Car Covers for Your Honda
Search Honda Accessories: