Genuine Honda Front Spoiler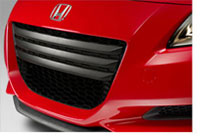 Brand: Honda | Product Category: Exterior | Product: Front Spoiler
Accentuates the aerodynamic styling of your Honda car whether you own the Honda Civic, Accord, or the popular Fit. Low profile, sporty styling give the vehicle a custom look. Available in many different colors to match factory finish. The Genuine Honda front spoiler gives your Honda a sleek, sporty look for a great customized look and feel.
Front Under Spoiler:
Accents the assertive styling of your specific Honda vehicle
Extends the front bodywork, providing a lowered appearance
Color matched to original factory specifications
Only order Genuine Honda exterior accessories at a discount from EBH Accessories..
Search our online catalog
and discover how to accessorize your Honda's interior, exterior, and wheels and remember, we buy for less we can pass that savings on to you!

Search Our Catalog for Genuine Honda Front Spoiler for Your Honda
Search Honda Accessories: