Honda Interior Lighting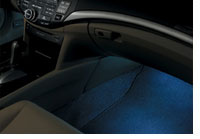 Brand: Honda | Product Category: Interior | Product: Lighting
Get the soft glow of blue light in driver and passenger seat foot wells that is aesthetically pleasing, integrates with interior lights and features on/off capability. Please verify the accessories catalog for requirements on attachment kit.
Interior Amient Lighting Highlights:
The Honda Interior Illumination offers a soft glow of light in the driver and passenger foot wells.
Aesthetically Pleasing
Blue LED Soft Light
Integrates With Interior Lights
Includes On/Off Features
Customize the interior of your Honda car or truck with Genuine Honda interior accessories.
Search our online catalog
and discover how to accessorize your Honda's interior, exterior, and wheels and remember at EBH, we buy for less we can pass that savings on to you!

Search Our Catalog for Interior Lighting for Your Honda
Search Honda Accessories: