Honda Interior Mirror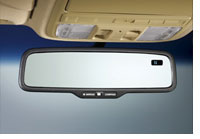 Brand: Honda | Product Category: Interior | Product: Auto Day/Night Mirrors
Helps reduce the glare of bright headlights from cars behind you. Automatically adjusts for all light conditions, and perfectly replaces the standard mirror. Compass is included, which makes using maps and following directions even easier. We have the auto day/night mirror for a variety of Honda models so be sure to check out our accessories catalog for a rear view mirror for your Honda model type..
Search the EBH accessories
product catalog
to find day/ night rear view mirror for your Honda model at a discount! EBH Honda Accessories carries Genuine Discount Honda accessories for all models and because we buy for less we can pass that savings on to you!

Search Our Catalog for Interior Mirror for Your Honda
Search Honda Accessories: