Honda Rear Wing Spoiler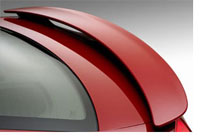 Brand: Honda | Product Category: Exterior | Product: Rear Wing Spoiler
Accentuates the aerodynamic styling of your Honda. Color matched to original factory specifications. Provides a custom finished look to your Honda vehicle. Choose from a selection of factory original rear spoilers that are perfectly fitted for your Honda model. Get that custom look you've always wanted or replace a worn or damaged spoiler to bring your Honda to its original state.
Genuine Honda Rear Wing Spoiler:
The Honda rear wing spoiler from is perfectly fitted for your Honda vehicle.
Quality construction and materials
Distinct look for your Honda
Color matched to specifications to your specific model
Only order Genuine Honda exterior accessories at a discount from EBH Accessories..
Search our online catalog
and discover how to accessorize your Honda's interior, exterior, and wheels and remember, we buy for less we can pass that savings on to you!

Search Our Catalog for Rear Wing Spoiler for Your Honda
Search Honda Accessories: